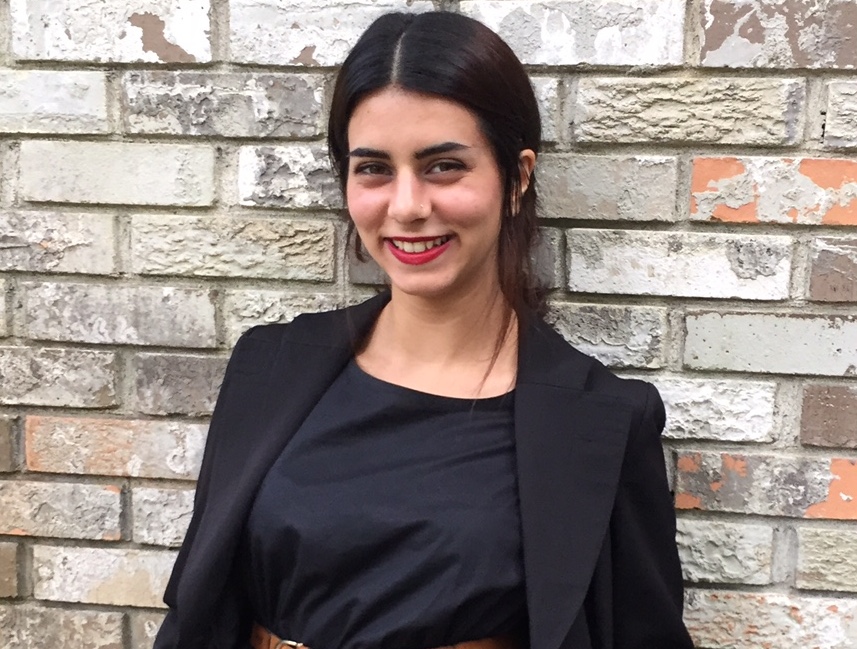 Reyhaneh is a PhD student in Media, Technology, and Society at Northwestern University. Her main field of interest is science communication in particular in Astronomy and Physics. She works at the Nonprofit Network and Social Impact Lab where she researches nonprofit mergers and attitudes toward nonprofit-corporation partnerships.
Her working background is mainly in audience outreach in nonprofits, mostly in the field of health. Rey currently enjoys working with different nonprofits such as the Adler Planetarium and the Brave Initiatives as a workshop facilitator. In her free time, she does doodling and scares away the birds by singing high-pitch with her ukulele.
EDUCATION
Northwestern University, Evanston, IL - PhD
September 2015 - Present
Media, Technology, and Society

University of Sussex, Brighton, UK - MSc
September 2011 - September 2012
Health Psychology

Tehran University, Tehran, Iran - BSc
September 2006 - September 2010
Physiotherapy

Publication and Presentation
-Maktoufi, R. (2018). Science and Entertainment: How Astronomers use Pop Culture references for Science Communication. Communicating Astronomy with the Public Conference.

-Maktoufi, R. (2018). Science and Entertainment: How Pop Culture References are Used for Science Communication. AAAS Annual Meeting E-poster student competition.

-Cooper, K.R., & Maktoufi, R. (2017, November). Re-defining integration: Relationships, retention, and restructuring in nonprofit mergers. Paper to be presented at Association for Research on Nonprofit Organizations and Voluntary Action (ARNOVA) conference, Grand Rapids, MI.

-Maktoufi, R., Shumate, M. D., O'Connor, A. S. (2017). The Effect of Created Fit and level of Activism on the Perception of Fitness of Nonprofit and Corporate Partnerships. Poster presented at the Organizational Communication Mini-Conference, Athens, OH, October 13-15.

-Maktoufi, R. (2017). Pop Culture References: A Bait to Elicit Pleasant Scientific Curiosity. ACM CHI 2017 workshop Design for Curiosity.

-Maktoufi, R. (2016). Popular Culture's Application in Science Communication at the Adler Planetarium. Presentation for Midwestern Popular Culture Association.

-Haider, D., Cooper, K., & Maktoufi, R. (2016, October 20). Mergers as a strategy for success: 2016 Report from the Metropolitan Chicago Nonprofit Merger research project. Retrieved from http://www.chicagonpmergerstudy.org/

-Maktoufi, R., Ghotbi, N., & Ansari, N. N. (2016). The Effects of Listening to Persian Music on the Hand Dexterity and Depression in a Patient with Stroke: A Case Report. Journal of Rehabilitation Sciences and Research, 2(3), 68-70.

-Maktoufi, R., Foong, E. (2016). The Effect of Message Framing on Intention to Engage in Science Communication. CSCW 2016 workshop Designing Online Experiments.

Research Experience
NNSI, US - Doctoral Research Assistant
2016 - PRESENT
-Network for Nonprofit and Social Impact, directed by Dr. Michelle shumate
Working for the Metropolitan Chicago Nonprofit Merger Research Project on nonprofit mergers publish at:
Haider, D., Katherine, C., & Maktoufi, R. (2016). Mergers as a Strategy for Success. Retrieved from: http://chicagonpmergerstudy.org/
-Project manager for the Nonprofit and Corporation partnership research funded by NSF

National Cancer Network, Iran - Sepas NGO Correspondent Research Assistant
2012 - 2015
-Literature review on audience preference and preventive care, for the Health Literacy Package
-Literature review on Comparative work for the Palliative Care Programs

Atieh Neuroscience Clinic, Iran - Research Assistant
2013 - 2014
-The effect of QEEG and mindfulness on level of anxiety in patients experiencing breast cancer

Teaching Experience
Buffet Institute, US - Qualitative Methodology
October 2016
Invited speaker on the topic of qualitative methods in "Science Communication"

Adler Planetarium, US - Body Language
2016 - Present
Teaching communication and science storytelling to new speakers of Adler's Space Visualization Lab

Brave Initiatives, US - Public Speaking
January 2016
Teaching Public Speaking Skills in a program for young girls to help them in coding and social engagement

Sepas NGO, Iran - Communication Skills/ Grief/ TOT
2012 - 2015
Ongoing workshops for volunteers and professionals in the field of cancer advocacy

Imam Hossein Hospital, Iran- Health Communication
June 2014
Workshop on doctor-patient communication for the nursing staff

IFMSA, Iran - Health Communication/Clown Physician Summer School
Summer 2012
Series of workshop and activities for medical students
Designer of the program and facilitator to develop communication skills with an emphasis on "Clown Physician"

Imam Ali NGO, Iran - Communication Skills/ Grief
2012 - 2015
Series of ongoing workshops for volunteers working with children experiencing terminal or chronic diseases.

Relevant Training
Northwestern's leadership Coaching, US - Personalized leadership skills training
Spring 2017
Northwestern's IDEAS, US - Data Visualization (D3, Matplotlib, Paraview, etc.)
Summer 2016

Northwestern's RSG, US - Science Communication Skills
Summer 2016

ComSciCon-Chicago, US - Science Communication Skills
Summer 2016

Habitat for Humanity, Turkey - Human Resources Management in NGOs
July 2014

Sepas NGO, Iran- Communication Skills/ SGS (Société Générale de Surveillance)
Summer 2013

Volunteer Experience
Communicating Science Conference "ComSciCon-Chicago", US - Co-President
2016 - 2017

Organizational Communication Mini-Conference, US - Organizer Committee
2016

Adler Planetarium, US- Space Visualization Lab Developer
2016 - Present

Brave Initiatives- Public Speaking Workshop Facilitator
2015 - Present

Northwestern University, US- Professional Development Committee
2016 - Present

Sepas NGO, Iran - Facilitator, Advocacy Project Manager, others
2008 - 2013

Imam Ali NGO, Iran - Facilitator, Advocacy Project Manager, Play/Art Therapist
2006 - 2015

Media
Science Communication Video-Personal Youtube Channel

Science Communication Writing- Personal Blog

Science Comics- Personal Instagram Page

Assistant Journalist/Interpreter- Spiegel, Stern, Wall Street Journal, New York Times, Arte (2008-2014)

Documentaries- The Blue Wheel (Star, 2011), People is Sometimes Kind (Illustrator, 2012)
TV Show Pilot(Extra)- Juliet and the Shrink (2012)

Commercials and Advertising- World Writers (Copywriter, April 2013- Present), Magnolia Advertising agency (Creative Producer, October 2012- March 2013)

Game- Pwnie Yard: Razorettes (voice-over, 2015)

Skills
Language - Farsi (Native), English (Fluent), German(Intermediate), Arabic (Elementary)

Adobe Package- Photoshop, Premiere, After Effect, Audition

Computer Skills- Familiar with CSS, HTML

Methodology Software- SPSS, Atlas.ti

Other Life Experiences
TEDx Northwestern Speaker - Northwestern University (April 2017)

NCA Doctoral Honors Seminar - Bowling Green State University (July, 2017)

Chemistry Education Copywriter - Science Ninja Board Game Intern - (Summer 2017)

Grief Consultant- Farsi Hospice (2013- 2015)

Amateur Astronomer- Freelance (2003 - Present)

Website Administrator-Lifestyle English (2006); Marham, Palliative Care Support(2014)

Physiotherapist- Teran's Children Medical Center (2006- 2007)

Contact Info
You can reach her by email at rey.maktoufi [at] u.northwestern.edu or follow her on Twitter @thecosmicrey and instagram and read her blog "The Cosmic Rey".